Contact Info
Tom Allen
785-249-4991
DeansBooks1426KS@gmail.com
License Plate Restorers
The information below is accurate as of January, 2015. Please contact each person directly to verify any information.
Larry Hoeft
Larry has been restoring plates since 1989. I have several of his restorations in my own collection.
Price: $60 per plate.
Contact: ldhoeft@aol.com

Lee Lawson
Lee does great work on plates in poor condition. Lee has applied his talents to more than one of my plates.
Price: $50 per plate for a basic restoration which includes sandblast, minor repair, prime, paint base color and lettering. Additional charge for holes, missing edges, creases, tears, and heavy pitting. Maximum charge is $150.
Contact: leelawson1374@att.net
Lee Lawson
1838 College Ave., Conway, AR. 72034
phone: cell 501-628-4535 home 507-327-0810

Below is an example of Lee Lawson's work.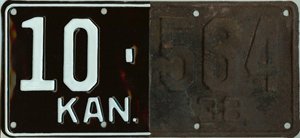 Brian Mabry
Price: $90 per plate. $175 for a matched pair.
Website: finishyourplates.com

Shawn Mahany
Price: $125 per plate. $240 for a matched pair. Oversize $25 extra. Motorcycle size $100. Also does reflectorization.
Website: restoreatag.com

Mojo Art Works
Price: $80 per plate including shipping regardless of the condition or work involved.
Website: mojoartworks.com

Larry Scott in Denver, CO.
Full restoration $40. Lettering Only $
Contact: scott.larry78@yahoo.com
Ph. 303-433-9504
cell: 720-545-5403

Tag Dr. (Rod Pearman & Mike Forbes)
Price: Full plate restoration from $85 to $105. Paint border and characters only $65.
Website: tagdr.com